T20 World Cup 2022 Confirmed Official Schedule – Download PDF
India vs Pakistan blockbuster on 23rd October as we look at the complete official schedule for T20 World Cup 2022.
The T20 World Cup 2022 is just a few weeks away, and it officially begins on October 16. A total of 16 teams are going to participate in the tournament. The tournament is divided into two phases. A total of 8 teams shall play Round 1 before proceeding to the Super 12 stage.
These 8 teams are divided into Group A and Group B. Sri Lanka, UAE, Namibia, and Netherlands are placed in Group A. Whereas West Indies, Scotland, Ireland, and Zimbabwe are placed in Group B. The top two teams from each group will then proceed to the Super 12 stage. Here's the official schedule for the Round 1 stage of the T20 World Cup 2022.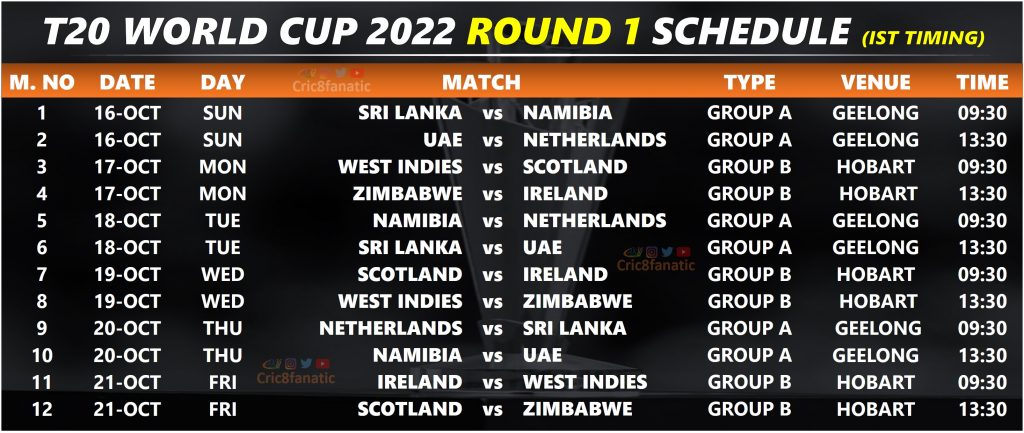 The Super 12 stage already has 8 teams pre-qualified. These 8 are already divided into Group 1 and Group 2. Australia, New Zealand, England, and Afghanistan are a part of Group 1. Whereas India, Pakistan, South Africa, and Bangladesh are a part of Group 2. Four more teams from Round 1 will then be added to the Super 12 groups. 
In the Super 12 stage, each team will play the other 5 teams of their respective group once. The top 2 teams of each group will then proceed to play the Semi-final. The Grand finale shall be played on November 13 in Melbourne. 
Team India's Schedule for T20 World Cup 2022:
Coming to India Team's schedule for T20 WC 2022, it starts with the blockbuster India vs Pakistan match on October 23rd in Melbourne. India then the Netherlands on October 27, and South Africa on November 30. The final two matches of Super 12 shall see India play Bangladesh on November 2 and Zimbabwe on November 06.
Thanks for reading! Who do you think would win the T20 World Cup 2022? Please email your thoughts to cric8fanatic@gmail.com
---
ALSO READ: Twitter Flooded with Support of Deepti Sharma for her Legal Run-out
---