India vs Sri Lanka 2023: T20 and ODI Series Squad Players List
Hardik Pandya and Rohit Sharma to lead as we look at the official squad players list for the 2023 India vs Sri Lanka ODI and T20 series. 
The BCCI on Tuesday, December 27 officially announced the squad for the 2023 ODI and T20 series vs Sri Lanka. The 3-match T20 and ODI series sees Team India selecting a 16-member squad; but with a lot of changes in both the squads. 
Rohit, who is the all-format captain for Team India has been rested from the T20 series. In his place, Hardik Pandya shall don the Captaincy duties with Suryakumar Yadav being his deputy. Whereas the ODI series shall see Rohit as Captain with Hardik as his deputy. 
Interestingly, KL Rahul has been relieved of the ODI series Vice Captaincy. His form and lack of confidence could be the biggest reasons for his demotion. With Hardik taking over the leadership role, it's pretty clear who is considered as the heir to Rohit Sharma. 
T20 Series Squad:
Coming to the squad T20I series squad, apart from Rohit, Senior players Virat Kohli, KL Rahul, Shreyas Iyer, and Rishabh Pant have been rested for T20Is. Surprisingly, Bhuvneshwar Kumar has been dropped from the squad. Whereas Jasprit Bumrah and Ravindra Jadeja are yet to recover fully from the injury. 
In terms of new additions, Ruturaj Gaikwad, Rahul Tripathi, Mukesh Kumar, and Shivam Mavi have been included. Barring these changes, regular players like Shubman Gill, Sanju Samson, Ishan Kishan, Deepak Hooda, Axar Patel, Washington Sundar, Arshdeep Singh, Harshal Patel, Umran Malik, and Yuzvendra Chahal are included. 
So, here's the official squad and schedule for Team India for the 2023 T20 series vs Sri Lanka.    
India vs Sri Lanka 2023: Official T20 Series Squad and Players List for Team India
Rahul Tripathi, Ruturaj Gaikwad, Shubman Gill, Suryakumar Yadav, Ishan Kishan [wk], Sanju Samson [wk], Axar Patel, Deepak Hooda, Hardik Pandya, Washington Sundar, Arshdeep Singh, Harshal Patel, Mukesh Kumar, Shivam Mavi, Umran Malik & Yuzvendra Chahal
Captain: Hardik Pandya // Vice-captain: Suryakumar Yadav
India vs Sri Lanka 2023 Official T20I Series Schedule:
1st T20I –  Jan 03 @ Mumbai // 7 pm IST
2nd T20I – Jan 05 @ Pune // 7 pm IST
3rd T20I – Jan 07 @ Rajkot // 7 pm IST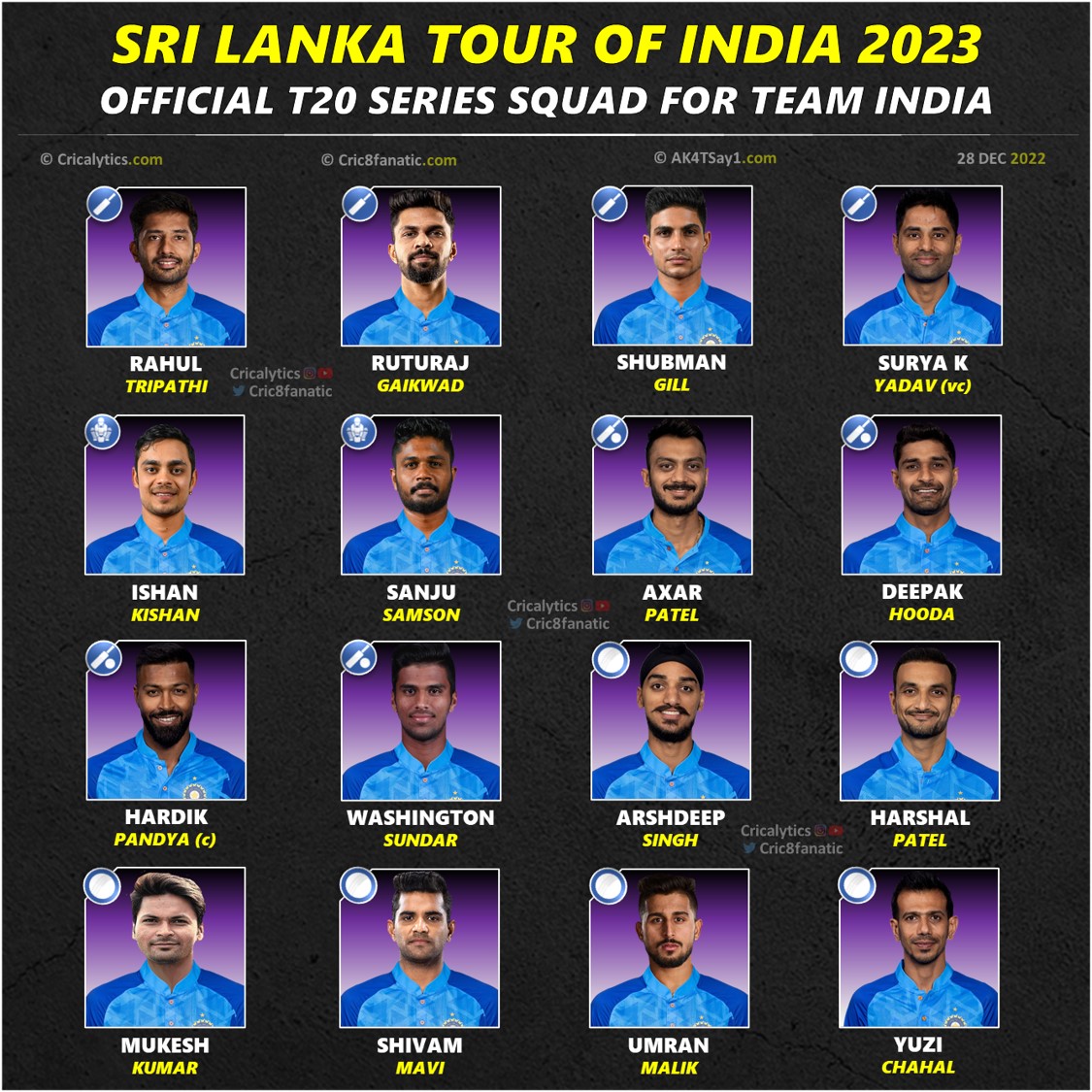 ODI Series Squad: 
For the ODI squad, Team India sees the return of Rohit Sharma, Virat Kohli, Shreyas Iyer, Mohammed Shami, and KL Rahul. However, Rishabh Pant is missing from the ODI squad as well and has been rested for the Sri Lanka series as he needs to undergo Knee strengthening at NCA. 
The core for the ODI series remains the same as we had seen against Bangladesh; the only notable omissions being Shahbaz Ahmed, Deepak Chahar, Shardul Thakur, and Kuldeep Sen. So, here's the official squad and schedule for India vs Sri Lanka ODI Series.    
India vs Sri Lanka 2023: Official ODI Series Squad and Players List for Team India
Rohit Sharma, Shreyas Iyer, Shubman Gill, Suryakumar Yadav, Virat Kohli, Ishan Kishan [wk], KL Rahul [wk], Axar Patel, Hardik Pandya, Washington Sundar, Arshdeep Singh, Kuldeep Yadav, Mohammed Shami, Mohammed Siraj, Umran Malik & Yuzvendra Chahal
Captain: Rohit Sharma // Vice-captain: Hardik Pandya
India vs Sri Lanka 2023 Official ODI Series Schedule:
1st ODI – Jan10 @ Guwahati // 1:30 pm IST
2nd ODI – Jan 12 @ Kolkata // 1:30 pm IST
3rd ODI – Jan 15 @ Trivandrum // 1:30 pm IST
Thanks for reading! What's your take on Team India squad for the 2023 ODI series and T20 series vs Sri Lanka? Please email your thoughts to cric8fanatic@gmail.com
---
ALSO READ: India vs Sri Lanka 2023: Official ODI and T20 Series Schedule
---